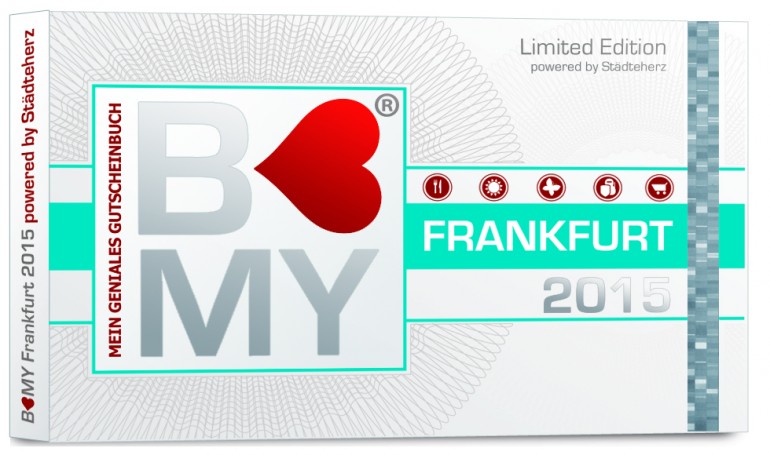 Dieser Artikel richtet sich an alle diejenigen, die noch auf der Suche nach einem passenden Weihnachtsgeschenk sind und gegebenenfalls eine Geschenkidee mit Mehrwert suchen – sei es auch nur um sich selbst zu belohnen und im kommenden Jahr kräftig Geld zu sparen.Eine ausgesprochen gute Idee liefert aus meiner Sicht das B-MY Frankfurt 2015 (ehemals: City-Scheck-Heft "BAROMETER"). Auf 433 Seiten findet der Besitzer dieses Geschenks rund 600 Gutscheine von 220 Unternehmen aus Frankfurt und der direkten Umgebung.
Ob zum Frühstück im Café, beim Mittag- oder Abendessen in beliebten Restaurants, auch zum Cocktailtrinken in einer der vielen Szenebars finden Familien, Paare und Singles zahlreiche Angebote mit dem 2-für-1-Prinzip (2x genießen und nur 1x zahlen), Leistungen zum halben Preis oder Gratiswertschecks. Darüber hinaus können Arrangements unter anderem fürs Kino, zur Massage und zum Schwimmen in einer der vielen Wellness-Oasen genutzt werden. Neben den zahlreichen Freizeit- und Kulturangeboten werden auch die Wünsche eines jeden Shoppingherzens erfüllt.
Letztlich verschenkt man mit dem B-MY 2015 eine Vielzahl von Gutscheinen, die beispielsweise zum Ausprobieren von Restaurants oder vielleicht zum kostengünstigen Besuch eines Theaterstücks einladen. Alle Gutscheine sind vom 1. Januar bis zum 31. Dezember 2015 gültig. Das Wertscheckheft für Frankfurt kostet EUR 49,90. Eigentlich ein annehmbarer Preis, wenn man bedenkt, dass dieser Betrag bereits mit zwei Restaurantbesuchen eingespart werden kann.
Folgend eine kleine Auswahl von teilnehmenden Gastronomiebetrieben: Belluga, Bombay Palace, Bullys Burger, Café Albatros, coa, Die Kuh die lacht, Dorade am Main, Eis Christina, El Pacifico, Euro Deli, Häagen Dazs, immergrün, Le Méridien Parkhotel Frankfurt, Leib & Seele, Long Island Summer Lounge, MoschMosch, My Sushi, Spice Kitchen, The Westin Grand Frankfurt, Travolta, urban kitchen, Yours Australien Bar.
Freizeit-, Wellness- und Kulturaktivitäten können unter anderem hier kostengünstig ausprobiert werden: Augenweide, Bowling World Germany GmbH, CineStar Metropolis, Dialogmuseum, Fraport Skyliners, MedusenFloat (siehe auch Artikel: "Floaten – Schwereloses Badeerlebnis") , Palmengarten, Rhein-Main-Therme, Senckenberg, STA Travel, The English Theatre Frankfurt, Tigerpalast.
Gutscheine zum Shoppen bieten unter anderem: Bike Boutique Frankfurt, Buffalo, Chicago Denim, Depot, Die Kleinmarkthalle, Hussel, Jeans Tower, Kult, Napapijri, Nike Frankfurt, The North Face Frankfurt, Wochenmarkt Konstablerwache.
Übrigens, wer in Koblenz oder München lebt, hat ebenfalls Grund zur Freude, denn auch für diese Städte gibt es diese Geschenkidee als Alternative.
Weitere Informationen können unter www.b-my.de nachgelesen werden.
Text von Marcus Kapust